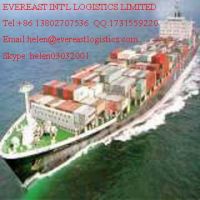 Fcl/lcl Cargo To Nhava Sheva, India From Shenzhen/shanghai/guangzhou, China
Модель : Freight to Nhava Sheva, India
Минимальный Заказ : 1
Минимальная Цена: 1
Тип Платежа:Other, PayPal, Western Union, T/T
Описание Продукта
FCL/LCL cargo To  Nhava Sheva,India From shenzhen/shanghai/guangzhou,China
1.Contracted rates
2.Space guarantee
3.Stable schedule
4.High efficiency
5.Seasoned staffs with good service



With years of development,EVEREAST LOGISTICS's Network covers Shenzhen, Guangzhou, Hong Kong, Shanghai,Ningbo, Xiamen, Qingdao, Tianjin and so on .(Main city & Main port of China)
 
Logistics service as below:
1,Contracted ocean rate from all China main ports.
2,Steady sea/air rate from major sea/air ports from China.
3,Good discounted courier price from DHL,UPS,FEDEX,TNT AND EMS.
4,Consolidation (we can pick up the goods from different suppliers all over China and consolidate the cargo in our warehouse for one shipment for you.)
5,Customs Declaration agency
6,Inland haulage
7,Documentation: (CO,Form A,fumigation certificate,insurance, and so on)
Procedure (Ocean shipping):
1. We contact supplier to arrange picking up or loading.
2. Arranges customs clearance.
3. We issue you the invoice and copy B/L for payment after goods boarded.
4. We release the original B/L to you or your shipper once all payment arrives.
5. Update the status of your shipment.
 
Procedure (Air shipping/Express):
1. We contact supplier to arrange picking up.
2. We confirm the chargeable weight after the goods enter into warehouse.
3. We issue the invoice to you to arrange payment.
4. We arrange customs clearance and boarding once payment arrives.
5. We send AWB copy or express tracking No to you,update the status of shipment.
 
Consolidation
1. We contact suppliers and confirm the date of goods preparation.
2. Collect the goods from suppliers or suppliers send the goods to our appointed warehouse under schedule.
3. Arranges loading, customs clearance, related document and shipping.
4. Issue a combined bill of lading, packing list and invoice under one shipper name to consignee.


EVEREAST LOGISTICS arranges the most cost-effective service tailored to the needs of each individual customer.
 
Whatever your business requirement is, we are here to help you. Our goal is to be your "Traffic Department".
Контактная Информация
Контактное Лицо

Ms. Helen Lee (Manager)

Компания

EVEREAST INTL LOGISTICS LIMITED

Адрес

Building 6, HuaiDe South Road, Fuyong Town, Bao'An District, Guangdong, China

Zip/Почтовый

518000

Телефон

86-755-61653930

Факс

86-755-61653891

Мобильный

86-13802707536
Больше Продуктов от данного Поставщика
Связанные Продукты