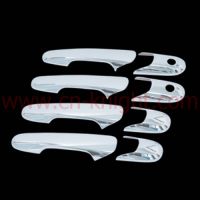 Door Handle Cover For Suzuki Liana & Aereo
Модель : SU-LIAE01
Минимальный Заказ : 10
Расположение: China
Минимальная Цена: 0
Способность Поставки : 1000
Описание Продукта
Door Handle Cover For Suzuki Liana & Aereo
door handle cover,door handle covers,door handle
chrome door handle cover,chrome door handle
handle cover,car door handle,door lever,China supplier
Product Description
—Made of automotive grade ABS chrome; Long lasting material designed to withstand the rigors of the elements.
—Easy Installation; Perfect Replacement; 100% weather proof.
—Customized packing and means of transportation are available.
—OEM service is available.
Our door handle covers are made of top quality ABS chrome, producing super-brilliant mirror shine! They upgrade the ordinary look of your factory handles to eye-catching accessories.
Our door handle overlays fit the existing trims and molds perfectly with adhesive tape. No cutting, drilling or tool work are needed. Achieve a brand new look of your car in minutes with our chrome ABS door handle covers!
For Suzuki Liana & Aereo Door Handle Cover
Special Note
We have other products for this automobile model as well as other models.
Welcome to visit our website for more details.
If you have any questions or comments, please feel free to contact us.
Контактная Информация
Контактное Лицо

Mr. Anson Chou (Manager)

Адрес

D201, No.85 Sha Tai Nan Road, Tianhe District, Guangdong, China

Телефон

86-2036135492
Больше Продуктов от данного Поставщика
Связанные Продукты