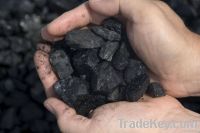 Coal Calcine
Модель : eas-c
Минимальный Заказ : 100
Расположение: South Africa
Минимальная Цена: 43
Способность Поставки : 10000 Metric Ton / Month
Тип Платежа:T/T, L/C
Описание Продукта
1.F. C is 90%
2.6-10mm,Low sulfur,Low ash
3.Be made from Ningxia anthracite
4.High absorptivity in molten stee
 Specifications of 90%-95%:
F·C

%

V.M

%

Ash

%

Moisture

%

Sulfur

%

95 MAX

1.0M AX

4.0 MAX

1.0 MAX

0.30 MAX

93 MAX

1.5 MAX

6.0 MAX

1.0 MAX

0.30 MAX

92 MAX

1.5 MAX

7.0 MAX

1.0 MAX

0.30 MAX

90 MAX

2.0 MAX

9.0 MAX

1.0 MAX

0.40 MAX
      Packing: IN 1MT/BAGS OR SMALL BAGS IN 1MT BAG
     We can process diferent particle size according to the requirement of the Guests(1--3mm,1--4mm,2--8mm,3--8mm,2--10mm,6--10mm).
      1.About Product
       •Attribute Being made from selected Ningxia Taixi anthractice.F.C is between 90%-95%.Reduce the cost of steelmaking effectively by replacing the traditional pertroleum coal of carburant.Also can improve the Carbon content in steel-melting and Ductile iron foundry.
       •Application  Mainly used in steelmaking in electrical stove, screening water, shipbuilding sandblast to remove rust,producing carbon materials.
       2.About Factory
       •Experience  More than 20 years experience in producing Additive Carbon and 10 years in exporting. Our factory has been certified by ISO 9001 quality management system and granted with coal management qualification certificate and the right for carbon export.
       •Service we can supply the carbon additive with 90%,92%,93% and 95% with good quality.Owning a large-scale production equipment, a laboratory and testing instrument. Establishing a thorough system of quality control.And process different particle size of product according to the customers' demand.
        •Market  Our products are marketable in domestic and overseas.The large steel enterprise such as Wuhan Iron & Steel,Maanshan Iron & Steel,Baotou Iron & Steel and Tangshan Iron & Steel etc.Exporting to many foreign countries in Europe,America,and Asia.
Контактная Информация
Контактное Лицо

Mr. Ibrahim Khoza (CEO)

Компания

Big O Trading Group

Адрес

50 Leuchars Road, Maydon Wharf, Other, South Africa

Zip/Почтовый

8001

Телефон

27-810428451

Факс

27-866438388

Мобильный

27-612535137
Связанные Продукты